Subsurface as Core business !
Well operation specialist (WOS) – Onshore/offshore supervisor
Well operations (Completion, Well Intervention, Production Enhancement, Workover, P&A)
Hardware Specialist (HWS)- XT, Well Head, Tbg Hanger, Csg Hanger, Drilling/Intervention Well Control Equipment – Onshore/Offshore Supervisor
Solution advisor (SA) Onshore – overall project support
Well Integrity Management
HAZID / HAZOP / RA experts
Well Intervention engineers
Geology and geophysics engineers
Reservoir Engineers
Drilling engineers
Well operation engineers
Completion Engineers
Hydraulic Intervention engineers
Well integrity engineers
Well P/A engineers
RLWI engineers & supervisors
Hybrid eline camera
Slick line memory camera
Coiled tubing camera w/lens cleaning
Smart X-over sub
Laser Scale Removal
Laser Pipe cutting
Multiple casing monitoring
Multiset Plug
Well Intervention Operation Consultant Service
Open water Wireline
Open water Coiled Tubing
Open water intervention riser system (OWIRS)
Hydraulic Intervention
P&A
Project execution
Feed studies
Well integrity management
Risk assessments
Hazid
Hazop
etc
Geophysics, Geology & Petrophysics services
Geological study/modelling 
Geophysical Interpretation/modelling 
Geomechanical Study/modelling
Log Interpretation/modelling 
Seismic Acquisition Planning
Seismic Processing 
2-D/3-D/4D Seismic interpretation
Prospect generation & evaluation
Seismic Stratigraphic analysis
Seismic Modelling:
Fault interpretation & mapping
Velocity analysis & modelling
Synthetic seismogram generation
Seismic attribute / AVO analysis
Fault seal analysis
Pressure/fluid prediction
Concept modeling
Structural modeling, Complex property modeling, Facies modeling, Volumetric and Uncertainty analysis.
Integrated reservoir modeling, implementing and integrating Geophysical, Petrophysical and reservoir engineering data incorporation with static model.
Reservoir property and structural mapping.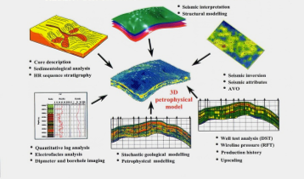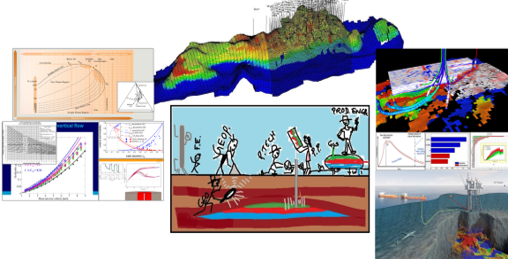 Input data validation (TVD)
Reservoir characterization 
Sector modelling
Sensitivity analysis
History matching
Uncertainty analysis
Production forecast analysis
Drainage strategy
Reservoir/Petroleum Engineering 
Basic Reservoir Engineering (PVT, CCAL, SCAL, Pressure Analysis, Well modelling)
Reservoir Simulation
Reserve Evaluation (CPR, PRMS, SEC) 
Production Optimization, Network modelling
IOR/EOR Study/modelling  
Decline Curve Analysis to assess reserves and Competent Person's Report (CPR) for a portfolio of producing fields and exploration prospects in Barents Sea and North Sea (UK and Norway sectors).
Identify leads, undertake prospect evaluation and production forecasting in Norwegian Central North Sea during APA (Awards in Predefined Areas)

Reserves estimation and reporting (PRMS, SEC methodology)

Material Balance: Reserve Estimation, Drive mechanisms identification and Reservoir connectivity
Reserve evaluation and production forecasting
Our team with broad experience in production engineering recommend sound industry practice and assess the risk involved in production. We provide:
Well modelling
Gas lift optimization
Network modelling
Well test design/modelling
Perforation design
Well completion
Acidizing design
Artificial lift modelling
Well intervention planning